Das Ulani 3 Piece Paddel ist ein extrem leichtes (nur ca. 750 Gramm) High-End Paddel.
Ausgestattet mit einem sehr großen Verstellbereich (176cm – 226cm), eignet sich dieses Paddel auch für große Paddler.
Eine Längs-Nut im Shaft verhindert zu 100% das unerwünschte verdrehen des Paddelgriffs, und garantiert somit immer die perfekte Stellung zum Paddelblatt.
Beim 3 tlg. Ulani Paddel garantiert diese Nut auch in der unteren Verbindung (Paddelblatt zu Mittelteil) zuverläßig eine enorm stabile Verbindung.
Die Paddelblattform ist sehr effizient und fehlerverzeihend. Konstruiert im medium Flex Bereich, gewährleistet dieses Paddel ein Minimum an Belastung des Bewegungsapparates.
Der Anstellwinkel des Paddelblattes gewährleistet maximalen Vortrieb im Verhältnis zum Krafteinsatz.
Dieses extrem leichte 3 tlg. VollCarbon Paddel ist zudem sehr ausgewogen in der Gewichtsverteilung konstruiert, was ein überaus homogenes Paddelgefühl garantiert.
Geliefert wird das Mistral Ulani Paddel inklusiv einer hochwertigen gepolsterten Mistral Paddelbag.
Das Ulani ist 100% schwimmfähig.
Ein must have VollCarbon Paddel mit einem sehr guten Preis/Leistungs Verhältnis.
3 piece adjustable 176cm – 226cm (geeignet auch für große Personen)
6.9" x 17.5" High Aspect blade
Gewicht ca. 750 Gramm +/- 7%
Marginal upper spline to split water evenly at end of stroke
Marginal blade concave
Palm grip
Shaft flex moderate
Round shaft

Inklusive Mistral Paddle-Bag – Silbergrau
Eigenschaften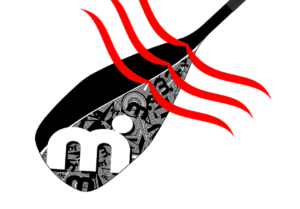 Dihedral Blade
Das sogenannte DIHEDRAL-Blatt ist durch zwei Flächen gekennzeichnet. Sie befinden sich auf der Paddelrückseite, also auf der dem Paddler zugewandten Seite, sie sind bei Mistral auch leicht leicht hohlkehlenförmig ausgearbeitet. Während des Paddelschlags bleiben derartige Blätter geradliniger während vollkommen plane Paddel die Tendenz haben nach links oder rechts auszuweichen.